Cupboard Door Company News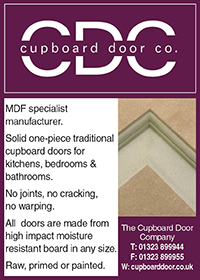 Browse By Category
Company news and press features, keeping you up to date with factory operations and the latest news about our products, as well as industry trends for kitchens, bedrooms and bathrooms.
If you are one of our designers or showrooms and would like to submit news or testimonials related to our products for inclusion on our website, or if you would like to receive our monthly newsletter by email please contact Suzanne.
January | 2017
According to a recent article by Olivia Heath at House Beautiful we can expect ...
December | 2016
With a plethora of attractive products in the marketplace, quartz offers a perfect solution for those ...
November | 2016
As we head into our busiest season for orders we'd like to let our ...
October | 2016
We're delighted to announce that our trade customers can now order Woodpecker and Vusta ...
September | 2016
Statement bold design features at London Design Festival 2016 enticing discerning home owners searching ...
August | 2016
Here at The Cupboard Door Company we like to keep a finger on the industry pulse ...
July | 2016
We're delighted to welcome Katie-Melissa Brent, our recently appointed Office Manager! As well as her ...
April | 2016
Often referred to as the most important room in the house, a new bespoke kitchen requires ...
March | 2016
Style predictions for the home in 2016, emanating from industry trade shows and the interiors press, ...
February | 2016
February is usually a calm month, but this year is already picking up at quite ...
January | 2016
The most recent report published by AMA Research makes for positive reading for the kitchen industry ...
December | 2015
As we manufacture kitchens, we are sometimes asked if we make worktops. We don't! But we ...
November | 2015
Xmas is just around the corner and order deadlines are imminent for 2015. Please ensure you ...
October | 2015
We've recently launched a new durable lacquer spray finish, offering the perfect high gloss kitchen or ...
September | 2015
Dulux has recently announced its Colour of the Year 2016 'Cherished Gold', carrying the ...
CDC In the Press